Apple Picking Season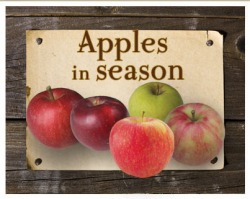 Organic Crabapple Season starts mid July through mid August

Organic Apple picking season starts September and goes through the end of November. Different types of apples are ready to be picked at different times during the season. So it's fun to know when they are ready and you can come to SLO Creek Farms and enjoy picking each type of apple at their peak picking time.

Types of Organic Apples to be Picked:
Empire Apples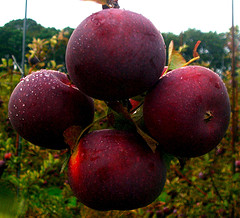 Ready to be picked mid August to October and will keep until January or later.
Characteristic of Empires: medium sized,

dark red with darker spots and a hint of gold or green coloring,

wonderful blend of sweet with mild tartness, juicy,

very crisp, creamy white flesh,




holds up well to mishandling
Best Uses:
excellent for eating and salads,
good for sauce, baking, pies and freezing,
great in lunch boxes because it doesn't bruise easily
---
Braeburn Apple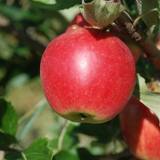 Ready to be picked the end of September through Late November
.
Characteristics of Braeburn:

The Braeburn Apple has a sweet flavor balanced with a moderate, almost spicy, tartness that produces a unique blend. The texture is crisp and firm and juicy. The under color is yellowish green and is shaded by a broadly red-striped color pattern. It is a late season apple with a long storage life up to 8 months.
Best Uses: excellent for cooking, salads, baking, sauce, pies and freezing.
---
Fuji Apples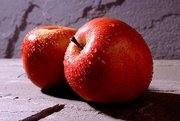 Ready to be picked early September through late November.

Characteristics of Fujis: sweet, hard, crisp, red in color. Good for eating, salads and sauce.


Fuji apples have it all--super sweet, super juicy and super crisp. What a great snacking apple! Fuji apples are aromatic, sweet, juicy and crisp with a firm texture. The Fuji's appearance varies from yellow-green with red highlights to mostly red. The Fuji's spicy, crisp sweetness gives it exceptional eating quality.

The Fuji is excellent for fresh salads. The Fuji is quickly becoming an apple with a large consumer audience.



---
Granny Smith Apple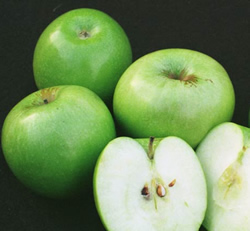 Ready to be picked in late October through December



Characteristics of Granny Smiths: large, green in color, hard, tart, tangy and crispy. Excellent for eating, pies, sauce and salads.



Granny's are large and very green with prominent dots on the skin. The white flesh is very crisp, juicy and acid. Great eaten cooked and also in cider when mixed with sweeter varieties.
---
Red Gold Apples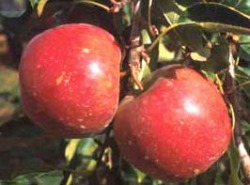 Ready to be picked early September through November.



Large red fruit striped with yellow and juicy, sweet flesh.
They have a flat round shape and a sold red blush on a green background. the Flesh color is greenish-white. It is firm and crisp and has a sweet-tart taste.

---
Crab Apples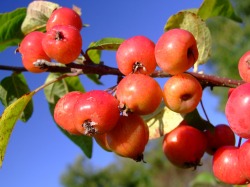 Ready to be picked July thru the mid August
Crab apples are small, extremely tart fruits in the same genus as table
apples
, and some botanists believe that they may be the survivors of wild ancestors of the domesticated apple. The fruits and their trees look remarkably like
apples
, which can lead to unfortunate confusion, as the taste of crab apples is rather distinctive. In addition to being grown for their fruit, crab apple trees are also cultivated for their decorative flowers and often dwarf size
.
---